Document

Basic Operation

Data Model

Database Management

Aggregation

Replication

Replication Concept

Replication Operations

Reference

Cluster

Connector

Reference

Development
FAQ
Master-Slave Replication
Every shard contains one or more data nodes. When there are several nodes in it, asynchronous replication is fulfilled. In a shard, there are master node and several slave nodes. Main nodes allows read and write operations. Slave nodes allows read operations.

If slave nodes are off-line, master node can work well as usual. When master node goes down, slave nodes will automatically vote and elect a new master node to cope with write requests.

When broken-down nodes recover or new nodes join a shard, replication will be fulfilled between data nodes in order to guarantee the consistency of master node and slave nodes.

The architechture of a single node is as follow: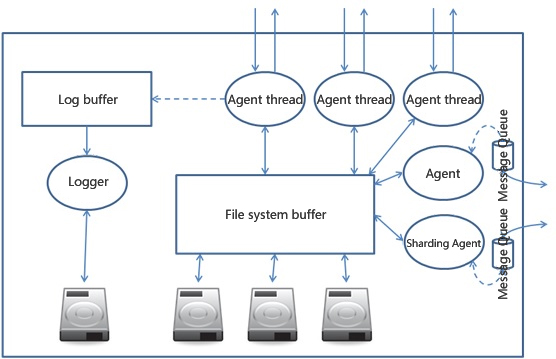 In data nodes, activities are controlled by EDU. Every node is a process in operating system. Every EDU is a thread in data nodes. Agent thread copes with user request from outside. Synchoronous agent thread copes with synchoronized transaction within shards in cluster. Shard agent thread copes with synchoronized transaction between shards in cluster.
All write operations are recorded in log cache. Log recorder will asynchronously write them into disk.
User data is written into file system cache pool by agent thread. Then operating system will asynchronously write them into underlying disk.