ECM Enterprise Content Management Platform /IBM CM Replacement

New requirements of enterprise content management
At present, in large amounts of data stored in the enterprise, the traditional relational database management system (RDBMS) structured data processing data accounted for only 15% of the total, while the remaining 85% of the information is unstructured, including documents, reports, photos, audio and video, fax, mail and other content data. How to manage these massive content data, become a big data management and information technology transformation of a major problem.
In the process of storing massive content data, the enterprise usually does not construct the different business application system for the business domain to manage the unstructured content data:
• Content data difficult to share across the business;
• The separation storage of content data and its description causes inconvenience to access;
• Different business data distribution in different storage devices, difficult to unified search;
• Data versions are inconsistencies in different business systems, resulting in management confusion;
• Unified management strategy, enterprises are not standardized, lack of coordination of various business systems.
Therefore, there are a lot of enterprises to build a centralized enterprise content management system, in the big data environment, the system architecture is facing new challenges:
• The original images and documents are scattered in different systems; thus, there is a lot of redundancy;
• Contents are lack of necessary classification and labeling, difficult to retrieve and maintain;
• Data storage is expensive and cannot be used to manage archived data;
• System scalability is poor and difficult;
• Unstructured data is not standardized and cannot be managed.
Distributed ECM for the needs
• In response to these pain points, SequoiaCM can be used as a new generation of enterprise users enterprise content management system, all aspects of these problems. The system can provide value to the customer;
• Elastic expansion: storage and computing resources with the business needs of the dynamic adjustment, the realization of PB above the level of storage;
• Continuous online: to meet the growing demand for data storage and real-time query acceleration, the full amount of content online, millisecond query efficiency;
• Reduce costs: the use of low-cost hardware and distributed architecture, significantly reduce the overall cost of ownership (TCO), to the original CM program 1/5;
• Unified management: unified storage of content data and metadata, improve performance and simplify operation and maintenance;
• Free search: for massive content data, multi dimensional free search and real-time query;
• Data security: distributed storage architecture with multi copy storage strategy to ensure data security and reliability.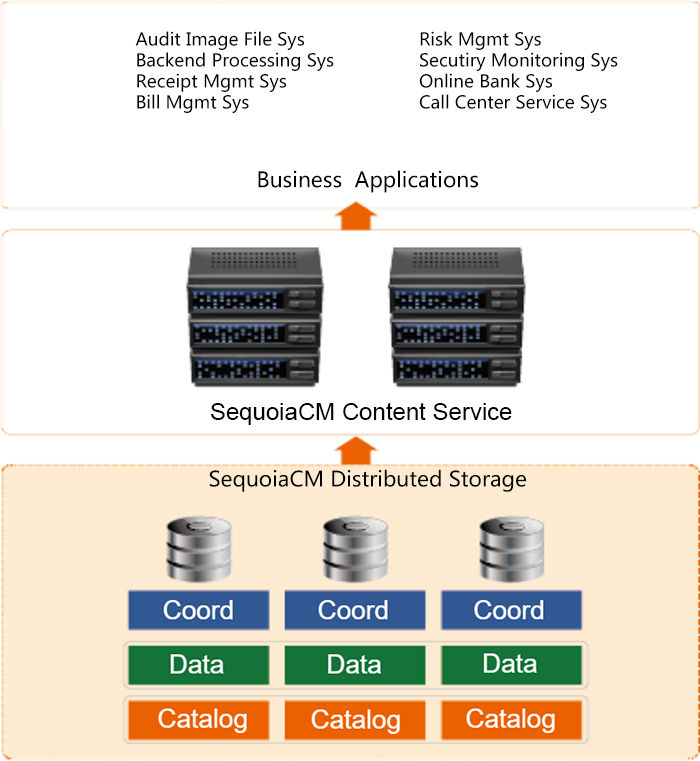 Application architecture of enterprise content management system based on Sequoia CM