Enterprise Content Management

At present, in the large amounts of data stored in the enterprise, the structured data processed by traditional relational database management system (RDBMS) accounted for 15% of the total amount of data information only, however, the remaining 85% of the information is unstructured, Including documents, reports, audio and video, photos, faxes, letters, etc. How to manage these unstructured information has become a major problem for big data management and information technology transformation.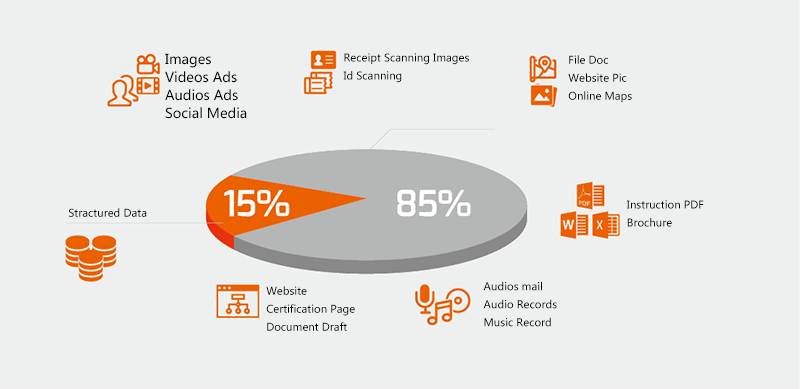 unstructured data
In the process of storing large abundant unstructured data, enterprises often face the following problems:
Abundant unstructured information accumulation
· The original images and documents are decentralized in different systems, there is a lot of redundancy;
· The content lacks in necessary classification and labeling, it is difficult for searching maintenance;
· High cost of data storage, it is unable to manage and use the sorted data.
1) Data is difficult to share across the business.
· Separate storage of content data and its description items causes inconvenience to access;
· Different business data is distributed in different storage devices, it is difficult to unify searching;
· Data is inconsistent in different business systems, which result in management confusion;
2) The standardized management of unstructured data;
· Unstructured data is short of standardization, and cannot be managed;
· The unified management strategy of enterprise is not standardized, various business systems administrate in their own way.
Business value of new generation distributed content management platform
To solve the problem of storing and managing the abundant unstructured data, and some business value the of the content database.
· Elastic expansion: Dynamic adjustment of storage and computing resources with business requirements, to achieve the storage above PB level;
· Continuous online: to meet the growing demand for data storage and real-time inquiry requirements and the continuous online of the full content, and inquiry efficiency at millisecond level.
· Cost reduction: adopt low-cost hardware and distributed architecture; significantly reduce the total cost of ownership (TCO) to 1/5 of the original enterprise content management ECM program;
· Unified management: unified storage of content data and metadata, improve performance and simplify the operation and maintenance;
· Free search: for abundant content data, conduct multi dimensional free search and real-time inquiry;
· Data security: distributed storage infrastructure with multi copy storage strategy to ensure data security and reliability.
The new generation of distributed content management solutions is based on distributed database storage, under the premise of ensuring data security , unify the management of total historical content data of enterprise, and satisfy the flexible expansion of computing resources, moreover, it also provides high performance free query retrieval capability for unstructured data.
Content Management Solution for SequoiaDB
Sequoia enterprise content management solutions (referred to as: Sequoia ECM solutions), based on Sequoia distributed content management software Sequoia CM, a new generation of distributed enterprise content management solutions, which is mainly used for enterprise storage and management of abundant unstructured data.
Through the new storage mode and distributed storage infrastructure, Sequoia ECM solutions perfectly smooth the technical challenges and pain points of storage and management of abundant unstructured data for enterprise. The main advantage of Sequoia ECM solutions include:
· Flexible storage structure: it is available to support the unified management of unstructured content data and metadata, through the dual engine mechanism, it is available to support the storage of small files and large files management simultaneously;
· High performance: Data processing performance beyond traditional content management software、through efficient slicing and distributed storage、 data compression、 redundancy reduction、 separation mechanism of reading and writing, greatly improve the efficiency of the system and ensure the rapid retrieval of data and real-time inquiry;
· Elastic scalability: adopt distributed storage infrastructure, through the elastic scalability of the storage node, rapidly response to the capacity scalability requirements brought by the incremental data;
· Costs reduction: adopt the PC server with high storage density to replace traditional "small machine + high-end storage" configuration, which reduce the users 1/5 of the original cost. Moreover, the flexible storage structure and efficient data management mechanism of Sequoia ECM solutions reduce the complexity of operation and maintenance, and greatly save the cost of management.
1)

Overall

infrastructure
The Sequoia ECM solution includes three major components:
· Content DB: based on content management software of Sequoia CM, provide complete content data storage management and metadata searching function.
· Content server: Provide the ability of batch management, version management, classification management and so on, and support user business system docking;
· Content client: provide operation and management functions for enterprise content data with the application or interface.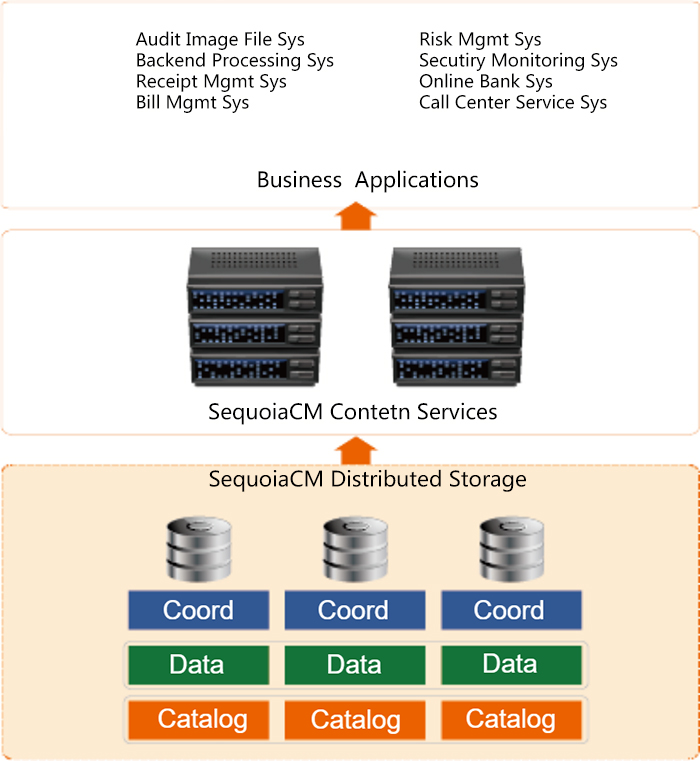 The Sequoia ECM solution infrastructure diagram
2)

Multiple Datacenter Deployment
| | |
| --- | --- |
| Deployment mode | Characteristic |
| Centralized deployment | Sequoia ECM solution provides the most simple centralized deployment, which is single content server and single content library infrastructure. Under the centralized deployment, the content data document is centralized storage, and centralized deployment of software and hardware. The system is simple and convenient to use, with low maintenance costs, and it is suitable for new users and users with simple business. |
| Multiple datacenter deployment | The Sequoia ECM solutions also support distributed deployment, it is available to support large enterprises which has a considerable number of local content data in a number of its branches. This deployment framework stores all content management information at the headquarters, each branch can use an independent content caching server to meet the management needs of local content files. |
Deployment mode table of Sequoia ECM solution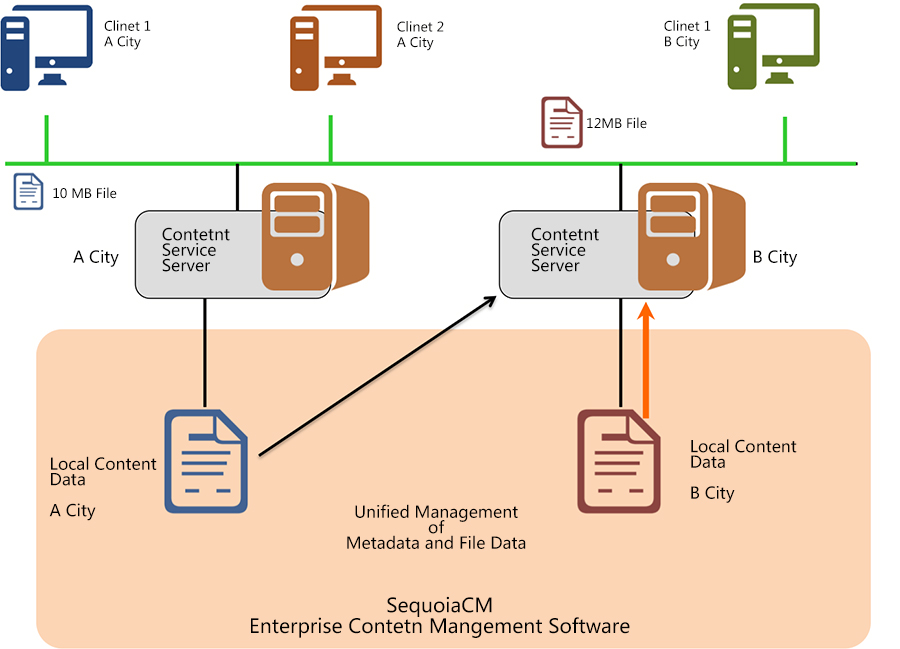 The multiple datacenter deployment architecture of Sequoia ECM solutions
3)

C

ontent Services
In the content service layer, Sequoia ECM solutions provide a variety of technical functions, which greatly reduces the user's difficulty and enhance the efficiency of the system.
Functions

Technical characteristics

Batch service

Based on Sequoia CM content data and characteristics of unified storage of metadata, users can better achieve the batch service of content data. Sequoia ECM solutions provides the main function as follows:

Batch inquiry、 batch number generation、 batch storage、batch attribute update、 batch deletion

version control

There are a lot of modification and intermediate state in the process of enterprise content data. The enterprise needs to maintain these procedure documents, as well as a historical snapshot of the content data. With respect to the version control demand, Sequoia ECM solutions provide the following functions:

· Trace the change history in content data.

· Each content data has the appropriate use permissions.

· Tracking and auditing of each version.

User-defined tags

Sequoia ECM solutions provide custom with user-defined tags for content data, and facilitate business applications to classify and query content data based on tags.

detection/

inspection service

Sequoia ECM solutions is available with detection / inspection mechanism, prevent conflicting problems caused by concurrent operation for multiple users to update or delete simultaneously

Metadata model

Sequoia ECM solution provides a unified metadata model for users, which support for unified management and service of enterprise content data.
Content service function of Sequoia ECM solution
4)

Distributed Content Storage
The Sequoia ECM solutions adopts new generation of distributed content management software, Sequoia CM. Sequoia CM adopts distributed infrastructure, which has high performance and high availability, providing a mechanism for lateral expansion, and the fragmentation procedure is completely transparent to the application program. The mechanism solves the restricted problem of single server hardware resources (such as memory, CPU, disk I/O), moreover, it does not increase the complexity of application development.
The main technical features of Sequoia CM content storage layer include:
· Dual storage engine of JSON/ block storage
· Transaction control s
· Multi dimensional data partition
· High availability
· Distributed lateral dynamic expansion
5)

Local original factory support service
Sequoia ECM solutions service users is available to obtain the local support service of original factory, analyze and solve problems for customers anytime, anywhere. For business customers, Sequoia will provide better service contents and methods than traditional software vendors, including 7x24 remote services, "active + passive" on-site service, project pre-planning services and custom development, etc., so as to give full play to the features and service advantages of independent research and development and local support.
Service mode

Service Items

Deliverables

Passive service

Remote support

Special use telephone, e-mail, IM to provide technical support, answering, training, etc.

Question record

Field maintenance

On -site training, troubleshooting, analysis, troubleshooting and optimization

Maintenance record

performance tuning

Overall or partial performance tuning for certain types of applications

Performance report

Active service

Site inspection

Regularly remote collection run log, take the initiative to carry out a comprehensive inspection of the site and potential problems after the automatic analysis.

Inspection report

Infrastructure consulting

When the business changes or changes in the deployment environment, infrastructure analysis and program consulting with respect to a specific problem

Infrastructure advisory

Customization

Fail to solve a problem (such as the interface), and provide customers with enhanced functional customization.

Functional document
Sequoia ECM professional services solutions